Studio Tuition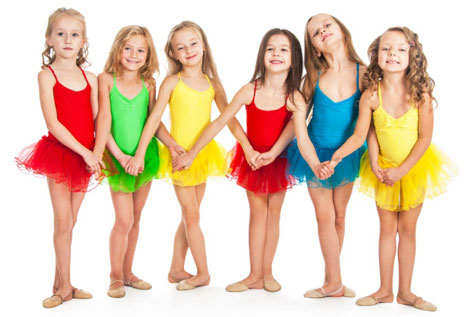 Tuition is due on the 1st of each month. A $30 late fee is applied on the 5th. If tuition is not paid by the 8th, dancer may be dropped from all classes. We cannot guarantee the slot will not be filled.
If we cancel a class we will offer a make-up class. If you miss a class no make-up class will be available. WE DONT OFFER MAKE-UP CLASSES FOR WEATHER RELATED CANCELLATIONS OR TEACHER EDUCATION DAYS. ALL TUITION AND FEES ARE NON-REFUNDABLE IF YOU CHOOSE TO END YOUR DANCE SEASON WITH US.
Annual Fees (prices effective Fall 2022)
REGISTRATION
$35 for first student in the family
$20 for each additional child in immediate family

RECITAL FEES FOR WINTER RECITAL AND SPRING SHOWCASE* (non-refundable)
$50 per student -2 times per year for each recital/showcase -Must be paid by cash or check otherwise credit card fee of $10 applies
*fees are used for auditorium rental, backdrop, awards ceremony etc.
COSTUME FEES for the Winter Nutcracker Recital and Spring Showcase (non-refundable) are due in January. Talk to Director for any payment arrangement needs.
$81.16 per recital dance, per student (tax is included-Must be paid by cash or check otherwise credit card fee of $10 applies )
Each Recital Student Must Purchase $15 Opening Number T-shirt
Additional information regarding recital tickets will be forthcoming.
Note: Monthly tuition has been set based on the number of classes scheduled from August - June. Therefore, it does not vary based on the specific classes in each month including holiday breaks.
Ballet is the core of all dance. Terminology, technique and strength training is the foundation of a professional dancer. Beginner, Intermediate and Advanced Classes are 1 hours. Pointe Ballet is 1/2 hour.
Classes Offered: Ballet | Jazz | Tap | Lyrical | Hip Hop | Contemporary |Musical Theatre | Tumbling| Conditioning & Stretching | Tiny Tot Combo
Girls and boys are welcome at our dance studio!
Beginner Classes Ages 5-8|Intermediate Classes Ages 9-12|Advanced Classes Ages 13-18
Levels are determined by age, unless your dancers have previous experience.
Monthly Tuition Packages
Note: We do require a contract for all recreational dancers. We ask that you committ to fall or spring sessions as choreography, administration, staffing and planning requires extensive work per dancer for the professional showcase and recitals that we offer each dancer.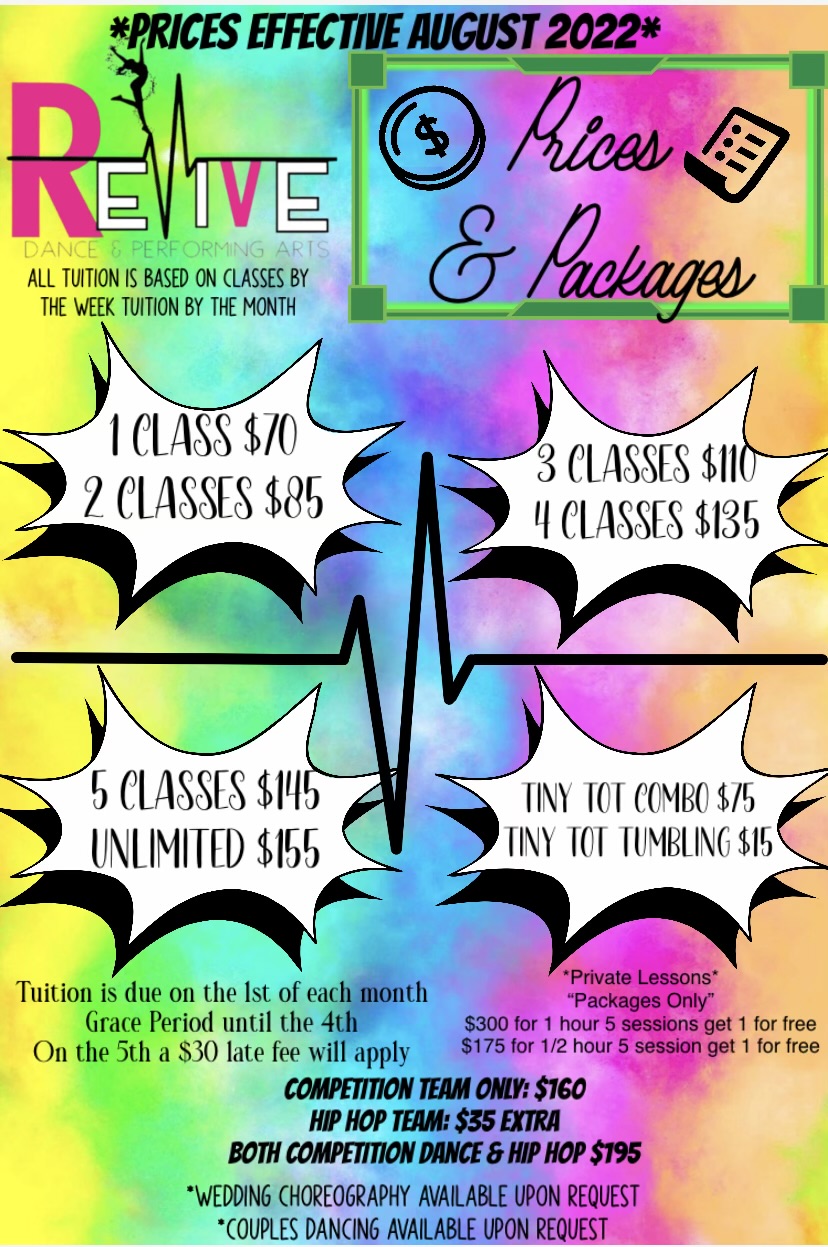 Competition Team Unlimited Package -$150 per month-includes a 2 hour competition class (mandatory for competition team members).
Drill Team Audition Prep - $100 per 2 hour class- offered in spring session only beginning in January.
Pageant Coaching - Private classes only. $50 per hour. 1 hour minimum.
Pageant Interview Coaching - Private classes only. $100 per hour first class then $75 per hour. 1 hour minimum.
Other Classes Offered
Trial Classes - first class is free when doing a trial class
Private Lessons Upon Request (must schedule with Ms. Britney)- $35 half-hour/$60 per hour
Private Lesson Package Deal (must be paid in advance) 5- 1/2 classes $175 (getting 1 class free) or 5-1 hour classes for $300 (getting 1 class free)
Choreography-$250 per dance ( include 3- 1hour sessions to learn the choreography and clean)
Dance class is educational and fun, however, an important part of class work is developing an attitude of discipline and respect for teachers and fellow students. We trust that following our classroom etiquette will provide an environment whereby classes at BSODS will be a pleasure for all concerned.
Policies
Please note the following guidelines regarding all classes:
• We request that students carefully observe our dress code as outlined as the dress code will be strictly enforced.

• The Waiting Room is for parents and students to wait prior to the start of their class. Please bring only bottled water or covered drinks and non-peanut dry snacks into the waiting room.

• Any student arriving more than 15 minutes late will not be admitted to class. For your safety and to receive full benefit from your class, please arrange for a make-up class if you expect to be very late.

• All students are encouraged not to leave the room once class has begun. Please allow for appropriate restroom use prior to class. Very young children (ages 2½ through 5) will be treated sensitively should the need arise.

• Preschool children may need a parent's attention from time to time for various reasons including bathroom or behavior issues. Please do not leave the waiting room when very young children are in class without informing the office or having another parent responsible during your absence. We make every effort to have all children feel safe and cared for in a loving and inspiring learning environment.

• Please practice respect. This applies especially to our school age and teen students. Students are not to be socializing in a disruptive manner during the class with other students. Please come early or stay late to enjoy friends in the waiting area. Please honor your teacher and fellow students by giving full attention and cooperation. You will be advised if we feel any student is not well adjusted to the classroom environment for any reason over time.

• During class if a student complains of being ill, or sustains an injury and cannot participate, the instructor will send them to the office where the parents will be notified if not on the premises.

• Only students with a pre-existing sickness/injury are allowed to observe class. The parents must notify the office if a student is to observe class.

• Out of town guests may request to visit at any time throughout the year. No one else is allowed to sit and watch during regular class time.

• NO PARENTS ARE ALLOWED TO BE IN A STUDIO WHILE CLASSES ARE IN SESSION. We will schedule parent observation days in advance so that you may view your child's progress. We appreciate your cooperation in this matter.
• Shorts and crop tops are not acceptable for any class.

• Students may not wear any jewelry.

• Proper dress for dance class is extremely important as teachers need to be able to see a dancers body in order to give corrections in placement and alignment. Please visit the Class Information page for specific guidelines on each class' dress code.